Support your Local DAV

We Will Not Forget!
LtGen Chesty Puller
All right, they're on our left, they're on our right, they're in front of us, they're behind us... they can't get away this time!
[When Surrounded By 8 Enemy Divisions During WW2]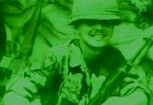 ABOUT THE AUTHOR:
Dr. Joseph B. Turner Was An Army Medic In Vietnam. He Grew Up In The Shadow Of His Marine Heroes: Eric England,
And The Author's Father Dr. Harry Turner Who Inspired Eric's Career.
SNIPER LEGEND OF VIETNAM
HISTORY'S GREATEST MARKSMAN

In The Interest Of Heroes & Disabled Vets.
This Page Endorsed By The USMC, The Scout-Sniper Association, Distinguished Shooters Association, The Firing Line, DAV, NRA, The Carlos Hathcock Family, & Patriots Like You...

Eric Enlisted At 17 To Escape The Georgia Cane Fields... & Was Personally Decorated By Gen. "Chesty" Puller His First Year As A Competition Shooter!


TRIBUTES TO A NATIONAL & INTERNATIONAL HERO


CARLOS HATHCOCK
"Eric Is One Great Man, Great Shooter, & Great Marine!"

NASCAR's BILL ELLIOTT
"One Great Shooter, & Mountain Man! I've Even Trusted Him With My Racecar!"

SCOUT-SNIPER ASSOCIATION
"Eric Averaged 14 'Confirmed' Per Week In Vietnam. Tough As Nails Yet Everybody's Best Friend. Nobody's Ever Going To Forget Ol' Eric!"



GEN. KRULAK
"Eric England Is Still A Model For The Marines Of Today!"

GOV. ZELL MILLER
"Eric Was My Model For Success, As A Shooter And A Marine. His Leadership Inspired Me To Become Governor!"

NRA
"Never Been Beaten, Never Will Be!"

ERIC ENGLAND IS THE UNDEFEATED U.S. RIFLE CHAMPION SINCE 1968, (.998 !)

ALSO THE GREATEST LONG-RANGE SHOOTER IN WORLD HISTORY!


The Inspiration For Many Modern Snipers...
Friend Of Generals, Governors, Celebrities, Hillbillies, 'Coon Hunters, Common Folk, & Especially NASCAR Fans!


THE STORY OF ERIC AND HIS SNIPER / MATCH RANGE BUDDIES HAS BEEN TOLD... IN THE ACCLAIMED BOOK REQUESTED BY THE COMMANDANT:
"The Phantom Of Phu Bai"

Over 300 Pages, Including 48 Pages Of Rare Illustrations & Sniper Photos. The Book Is Autographed & Personalized To You, & Title Page Has Your Name Officially Printed On It. Includes Autographed Souvenir Bookmark & Two Free Sniper Patches

CONSIDERED A COLLECTOR'S ITEM BY THE TOP SNIPERS & MARKSMEN OF OUR DAY!

Unfortunately this book has been taken out of print and is no longer available

Proceeds Help Disabled War Veterans!
This Is A Super-Glossy Multi-Colored Laminated Soft Cover, 8.5 x 5.5 Inches. The Book Is Printed And Handbound Specially For You, Making It A Treasured Keepsake. Allow 3 To 4 Weeks For Delivery.

=SATISFACTION GUARANTEED=
We Receive Continuous International Feedback Of The Highest Acclaim

To Ask Us Stuff, Click Below:

EMAIL INQUIRY: Click Here
My personal thanx to Dr. JB Turner allowing me to make this tribute and also to a friend Bill Hesse of 1st Battalion 9th Marines (Delta Co. 2nd Plt) and finally to my son Toby as a Scout Sniper Honorman Graduate.
(He should have gotten High Shooter as well, but that's another story!)


Webmaster's Notes:
I have had the pleasure of ordering this book and having it personalized for my son Toby. Not only did Dr. Turner have Toby's name inscribed in the book, but he signed it with a little personal note to my son. To top it off, Dr. Turner also signed a bookmark and included several Marine Corp patches.
The book is exciting, a tough one to put down without wanting to sneak a peek at the next chapter.
PS Dr. Turner, the book is a big hit in the barracks at the 1/2! The entire platoon has wanted to borrow it to read!